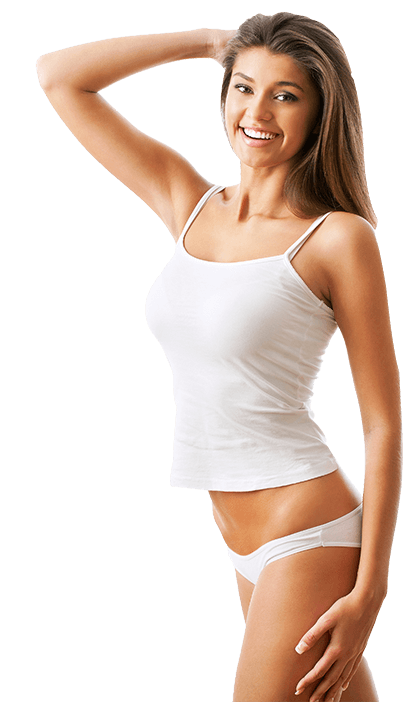 Soprano Laser Hair Removal
How many times have you wished you no longer had to shave, pluck or wax unwanted hair? And have you ever worried about the pain of the procedure?
Now there's a comfortable permanent way to eliminate re-growing hair, quicker and with fewer visits than ever before.
NEW TECHNOLOGY
The new Pain-Free Hair-Free™ Soprano Laser hair removal technology is efficient, suitable for all skin types, perfect for any area of the body and virtually pain-free with no medication or other pre-treatment required.
THE OLD ISSUE
The pain associated with laser hair removal is dependent on the amount of light energy being applied to the skin.
Traditional bulk heating methods raise the hair root's temperature, so the root is destroyed.
This is excellent but causes intense pain,
The discomfort is like being stung — this due to the high energy delivered in a single pulse - Think camera flash.
Its bombards your skin with light and has a higher association with skin damage.
NEW SOLUTION
Our new laser hair removal technology works by using, wait for it ....."little fluence, high average power, with super-fast pulses" -???
but with technical speak like that, we might as well give up!
Plainly put:
Instead of simply blasting unwanted hair, it heats to a temperature that damages the hair follicle gradually.
With this steady approach, the likelihood of skin burning or blistering reduces to next to zero and of course, discomfort is much lower.
ALL SKIN TYPES
Soprano method also makes the laser Safe for all skin types and can be performed anytime during the year.
Of course, there is an ideal - pale skin and dark hair and this combination is the same for all laser hair removal devices.
Darker skin tends to be more delicate and more sensitive to the heat in laser treatments.
However, with our advanced technology for laser hair removal, it doesn't cause trauma to the darker skin as with traditional technology, making it the safest laser hair removal option for Asian and tanned skin.
Affordability Of Soprano Laser
Price is important, right?
But so is the quality of treatment and the success of the laser.
High success with quality assurance is hopefully where Wimbledon Clinic Aesthetics really can give you a happy quote.
Now, with Soprano also being the most comfortable laser treatment on the market its an investment that great all around.
The only Icing on the cake is affordability and Wimbledon Clinic Aesthetics offer Full Repayment Plans (spread the cost at no extra to pay) on our laser therapy packages. Along with our price match promise which you will see on your Soprano quote form at your free patch test.
To get an idea of your pricing you can pop over to this page and try and add and subtract each area - soprano prices page.
or you can request a callback where we can give you details on the current offers and book you a free quote session that also involves you meeting your practitioner, seeing the clinic and feeling the laser (patch test).